Krewe of Krampus Den at Bratz Y'all
Just as every King needs a castle, every Krewe needs a den. So when we heard there was a German biergarten opening up in Bywater we knew there was a perfect match.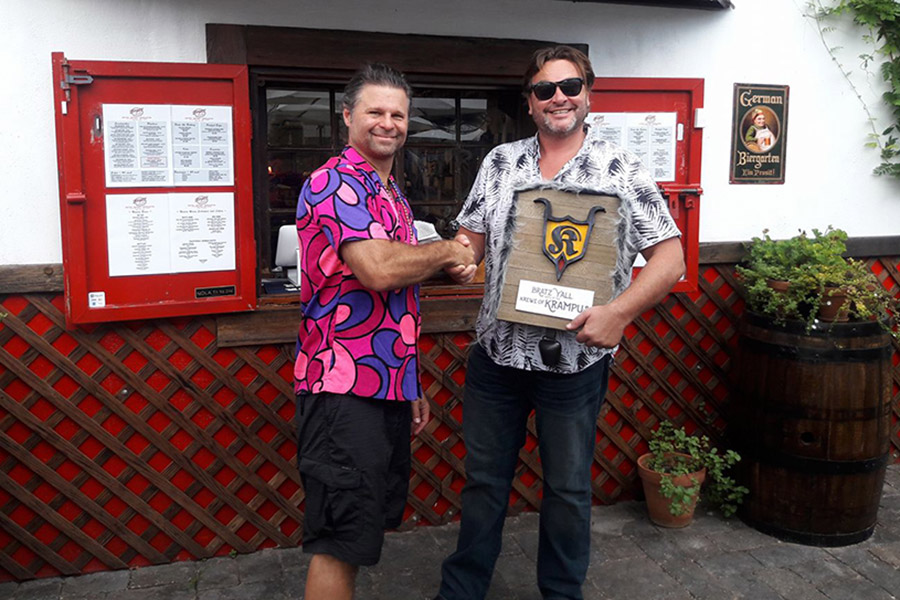 Michael Esordi presenting Sven Vorkauf with a Krewe of Krampus sign for Bratz Y'all at the Krampus in July event.
Have to say that having an Austrian on our Krewe who grew up with the tradition of Krampus has worked well for us in more ways than keeping a certain level of authenticity of traditional practices for Krampus Troupes. Que Bramböck who moved to the United States from Innsbruck, Austria was craving delicacies from her homeland when her nose led her directly to familiar smells coming from the Bratz Y'all catering truck during a street festival. Having found this gem and enjoying the delicious tastes from home, Que wanted to thank the chef, which led to a conversation with Sven Vorkauf, owner of Bratz Y'all.
As the conversation was in German, I can only tell you that it was mostly about the great food, but it did cover that Sven was opening the space on Piety Street. Long story short, Que saw the potential, mentioned it to Mike, our Krewe Captain, Mike met Sven and now we are proud to call Bratz Y'all our home.
From the beginning, Sven has been extremely welcoming to having the Krewe hold meetings at Bratz Y'all as well as public events. Everyone there has gone out of their way to make us feel like family. Every time we schedule an event, or just show up to hang out, it always ends up being a night of good food, friends and plenty of laughter.
We can't say thank you enough for the hospitality and friendship of Sven and the entire crew of Bratz Y'all. To help us show the love, be sure you ring the bell on the Krampus sign next time you stop in for a Beer and pretzel.