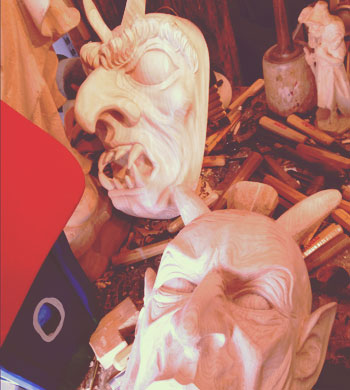 Become a Member of The Krewe
Krewe Members walk in the parade, the Krampus NOLAuf and hand out throws to the crowd. Our signature throws, lumps of dark coal for the naughty and the coveted gold version for the good, are included with your membership. You will also receive a package of other official Krewe of Krampus items to hand out as well. Most members create or provide additional throws that follow the Krewe guidelines.
Costumes are not provided and are the responsibility of each member (help available). It is also a requirement to be in costume to walk the parade.
Membership dues are essential for the Krewe of Krampus to finance the parade expenses such as parade permits, police escort, insurance, signature throws, and clean up company.
2019 Season Membership Closed – Join for the 2020 Season
Membership $195

Membership for this season is closed. You can join for the 2020 season and will get a spot in the 2019 NOLAuf as a helper. Banner carrier or Toy Float Assistant.
To make the Krewe more accessible we offer an installment option in addition to the one-time payment option.
Pay in Full $195
+ $4 service fee
4 Installments $48.75 each
+ $2 service fee
Applicant Information Form
After submitting payment please fill out this simple form to register.

Individual Membership – 2019 Season
• Walking privileges for the 2019 Krampus NOLAuf Parade
• Walking privileges in the 2019 Krewe of Boo Parade*
• Lumps of coal to hand out in the Krampus NOLAuf**
• A package of branded throws* (TBD)
• Ticket to NOLAuf After Party and Access to Member events
• Plus lots more as we plan events all season.
*Privileges are subject to approval 
**numbers determined based on membership numbers
• Completed application by new recruits
• Yearly dues to support the efforts of the Krewe
• Adhere to and uphold the bylaws of the Krewe
• You are responsible for your own costume that adheres to the Krewe guidelines and are required to walk with the Krewe
Troupes
In addition to the main troupe of our traditional Krampus characters, we have three other official sub krewes (troupes), Sisters of Shhh, Y'ules, and the Frau. Once you become a member you can let the troupe leaders know you would like to be part of their specific troupe.
The Krampus Horns and Carolers
We are also excited to finally introduce somethign we have been working on since the start of the Krewe. The Krampus Horns is our very own brass band that will give us more of a New Orleans sound to the NOLAuf, but still with a twist. The Krampus Carolers will bring a creative spin on Christmas caroling to our events and welcome even more audience participation.