New Orleans
Krewe of Krampus
New Orleans
Krewe of Krampus
Only in New Orleans would you find such a mix of cultures blending their age-old traditions.
In keeping with a true European Krampuslauf, known as a Krampus run, the Krewe will maintain many of the traditions found in Alpine villages. Our evening parade or Krampuslauf will be lead by Krampus, complete with switches, and Saint Nicholas accompanied by a host of other creatures and folklore legends like Frau Perchta (The Frau), Yule Cat, Knecht Ruprecht, Belsnickel, and others (Y'ules) and our Halloween character (Swampus).
Completely unique to New Orleans is our very own Sisters of Shh. Shhh stands for SHe Harkens Him and when you see the women all in white you know Krampus is not far behind. They are very beautiful, but don't let that fool you. They too are out to punish the naughty. Misbehave or make a noise in their presence and you just may lose your soul to their icy stare.
These unique Krewe of Krampus characters will help give the parade a unique New Orleans twist. It also wouldn't be a proper Krampuslauf without some horns on your head, clanking chains, and ringing bells.
Adding New Orleans Flavor
While dark, earthy, and scary are a huge part of a Krampuslauf, we want to put a New Orleans twist on things. Think gloomy and frightening meets bright and funky. This will be visually demonstrated with themed costuming and colors. Not only will we have the traditional Alpine characters, but we also welcome angels, fairies, elves, woodland creatures, and whatever else your imagination dreams up that would be in a Krampuslauf. The Krewe's official colors are holly berry red, black coal, and Saint Nicholas gold so if you have trouble dreaming up a costume you can at least sport some festive Krewe colors.
Now a Krewe would be lost without it's King to lead the way. Just as Krampus would be lost without the guidance of Saint Nicholas. Each year we introduce our honorary St. Nick to kickoff the festivities and close the parade. Our Saint Nicholas will be complete with a mitre, robe, and staff inspired by the Krewe of Krampus.
Another important aspect to any New Orleans parade is the music. Anyone that has attended a local parade or second line will know that a brass band makes it a truly New Orleans event. Over time we see not only the inclusion of local bands, but also the formation of our very own Krampus Horns Brass Band. (interested click here)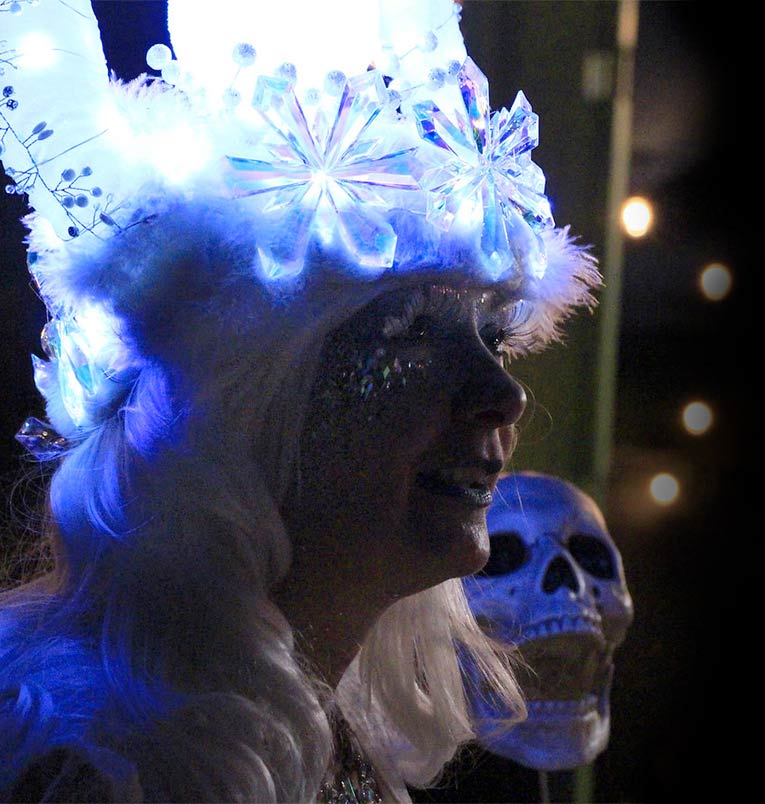 Our Mission
To support cultural understanding, promote social inclusion, and to contribute to the well-being of children in our community.
Our Vision
Our goal is to establish a core group of enthusiastic individuals that are passionate about sharing the Krampus tradition here in New Orleans through a walking parade. With a solid base and dedicated following the Krewe of Krampus parade and associated festivities will grow to be a "must attend" event of the December holiday season.
Krampus works one night a year and has one job…to punish the naughty
Although if you have been getting yourself into trouble during the year it may be a bit risky coming to a Krampus gathering, but we still encourage it. In fact, we strongly encourage all attendees to celebrate along with us and get into the spirit by donning themed costumes. Get creative, we want to see how you interpret this Alpine tradition New Orleans style.
Think…a touch of alpine winter, snow, and cold.
The more creative you are with your costume might just be what's needed to capture the attention of mean ol' Krampus. Will you get the switch or will you get a coveted piece of coal? Are you brave enough to find out?
In keeping with New Orleans traditions the Krewe of Krampus will have traditional throws along with several of our own. Including our signature throw, which will be handed to a select few and is an officially decorated lump of coal! It will be Krampus meets Mardi Gras
Be Part of the Festivities
In a city where the bar is high when it comes to events and parades, we have our work cut out for us. Lucky for all of us we live in a city that is always open to new ideas. With your help we can celebrate an age-old tradition in a way only fitting for the great city of New Orleans.
Join the Krewe
Membership for the 2020 season is open and accepting new members. Join the biggest Krampuslauf in America.