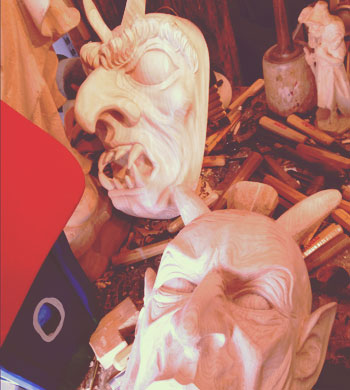 Krampus NOLAuf
When it comes to the annual Krampus parades, in the Alps they call them a Krampuslauf which translates to Krampus Run.
In New Orleans, we gave it our NOLA twist and call it the Krampus NOLAuf.
Krampusnacht or Krampus Night takes place on the eve of St. Nicholas Day celebrated each year on December 5. It is then, in the dark of the night, when Krampus comes out to parade through the village and unless you've been naughty, you have nothing to fear. In New Orleans, the Krewe of Krampus appears the Saturday evening closest to December 5.
The NOLA Krampus parade, the Krampus NOLAuf, holds true to many of the traditional customs while adding a few NOLA variations to make it our own. For those who are brave enough to line the parade route, be prepared to not only see all the Krampusse as they search the crowd for the ill-behaved but meet many of his other fiendish friends and special guests.
One of the unique treats in this procession is the Sub-Krewe, Sisters of Shhh. Beware the ice chilling stares from these angels of the night as they herald Krampus in. If you are unfamiliar with the fate that awaits you should you neglect her canon to remain silent and solemn in her presence, it is best you learn of the legend.
Then the highlight of the parade, enter Krampus. Following the lead of the originators from the Alps, our Krampus exhibition will not disappoint. Not one detail shall be overlooked when it comes to horns, fur, bells, and ruten. With plenty of woven baskets to carry off the bad children. A spectacle sure to evolve as the Krewe of Krampus membership grows.
Symbolically as Krampus clears the village of evil by removing all the bad little boys and girls, we transition to good and the giving nature of the season. Representing the end of the Krampus NOLAuf and the ushering in the Feast of Saint Nicholas is none other than St. Nicholas himself. Staying true to our New Orleans heritage and Mardi Gras tradition of Krewes naming a King, the Krewe of Krampus bestows the name of St. Nicholas to an honorary member deserving of the title.
Become a member to costume and walk or line up early to get a front row view. Either way, you will certainly enjoy this wonderful tradition with its roots deep in the Alps, but now extending and shared around the world. Including here in your New Orleans.