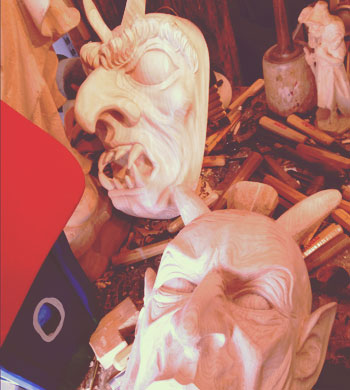 Become a Member of The Krewe
Krewe Members walk in the parade, the Krampus NOLAuf and hand out throws to the crowd. Our signature throws, lumps of dark coal for the naughty and the coveted gold version for the good, are included with your membership. You will also receive a package of other official Krewe of Krampus items to hand out as well. Most members create or provide additional throws that follow the Krewe guidelines.
Costumes are not provided and are the responsibility of each member (help available). It is also a requirement to be in costume to walk the parade.
Membership dues are essential for the Krewe of Krampus to finance the parade expenses such as parade permits, police escort, insurance, signature throws, and clean up company.
Individual Membership – 2017 Season
• Walking privileges for the 2017 Krampus NOLAuf (December )
• Walking privileges in the 2017 Krewe of Boo Parade* (October)
• Black lumps of coal to hand out in the Krampus NOLAuf*
• Gold lumps of coal to hand out in the Krampus NOLAuf*
• A stack of branded throws* (TBD • 2016 We had cups)
*numbers determined based on membership numbers
• Completed application by new recruits
• Yearly dues to support the efforts of the Krewe
• Adhere to and uphold the bylaws of the Krewe
• You are responsible for your own costume that adheres to the Krewe guidelines and are required to walk with the Krewe
Memberships $195
* Open membership closes September 30, 2017
Pay in Full $195
+ $3 service fee
Sub Krewes
In addition to the running of the Krampusse, in 2017 we have one official sub krewe. S.H.H.H. If you wish to participate a member of SHHH, you only need to ask the Sub Krewe Lieutenant. No additional membership dues or requirements are necessary.